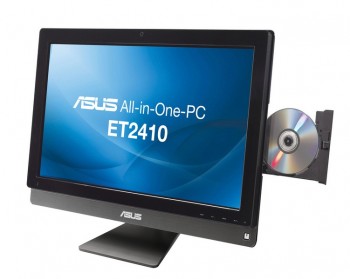 Asus har lavet en all-in-one PC, i 3 størrelser, men det er kun den midterste 24″, ET2410, som er ude nu.
Du kan se 'ca.' specs neden for, jeg kan ikke finde bedre specs, fordi computeren kun lige er blevet vist frem ved en konferrence – Asus skriver ikke engang noget om dem selv.
Men den er mega interessant – en 27″ All-in-one PC som ikke er en iMac, det kan kun være godt :) Og de kommer snart ud, hvis vi er lidt heldige bliver de en succes, så min næste iMac bliver billigere :)
Problemer med den? Jeg synes ikke 1080p er nok til en 27″ skærm, Touchskærm? Har vi ikke prøvet det i normale skærme(det fungere ikke) også er grafikkortet for langsomt, men Asus giver sikkert mulighed for at gøre det bedre. Hvis du vil betale mere. Faktisk er GT540M langsommere end det mindste iMac grafikkort, 6750m, man må gå ud fra, at Asus giver valgmuligheden, det ved vi ikke endnu.
Der er mount så du kan sætte den på væggen, HDMI porten kan enten gøre computeren til en ekstern skærm for en spillekonsol eller udvide skrivebordet med en ekstern skærm, hvilket er godt lavet.
Kommer den til danmark?
| | | | | | |
| --- | --- | --- | --- | --- | --- |
| Model: |  ET2210 |  ET2410 |  ET2700 |  iMac 21 | iMac 27 |
| Skærm: |  22″ (touchskærm) | 24″ (touchskærm) | 27″ (touchskærm) | 21,5″ | 27″ |
| Opløsning: | 1080P | 1080P | 1080P | 1080P | 1440p |
| Processor: |  i3/i5 (dual/quad core) |  i3/i5 (dual/quad core) |  i3/i5 (dual/quad core) |  Quad core i5/i7 | Quad core i5/i7 |
| Ram: |  Op til 8GB DDR3 |  Op til 8GB DDR3 |  Op til 8GB DDR3 |  Op til 16GB DDR3 |  Op til 16GB DDR3 |
| Harddisk: |  1TB/2TB |  1TB/2TB |  1TB/2TB |  1TB/2TB + SSD(256GB) |  1TB/2TB + SSD(256GB) |
| Grafikkort: |  NVIDIA GT540M |  NVIDIA GT540M |  NVIDIA GT540M |  6750M/6770M |  6770M/6970M |
| Kvalitet: |  Plastik + glas |  Plastik + glas |  Plastik + glas |  Alu og glas | Alu og glas |
| Stik: | USB3, E-sata, hdmi, Kortlæser+blueray | USB3, E-sata, hdmi, Kortlæser+blueray | USB3, E-sata, hdmi, Kortlæser+blueray | Firewire, Thunderbolt,  Kortlæser |  Firewire, Thunderbolt,  Kortlæser |
| Pris:(starter ved) |  mindre end $900 |  $900 |  Mere end $900 |  $1200 | $1700 |
| Udkommer:(USA) |  Oktober |  Nu! |  November | Er ude | Er ude |
httpv://www.youtube.com/watch?v=Z4opt91y1cg&feature=player_embedded
The new ASUS All-in-One line-up features sleek design, robust features and top performance all at an incredible valueFremont, California (September 26, 2011) – Designed to offer versatile performance for a wide variety of users, ASUS is excited to unveil three new All-in-One (AIO) models featuring the 21.5″ ET2210, 23.6″ ET2410, and 27″ ET2700. All three models feature vibrant 1080P LED backlit touchscreens, 2nd generation Intel® Core™ processors, USB 3.0 and e-SATA connectivity, 802.11 N wireless LAN, Digital camera, SonicMaster Audio and VESA-mount points. Options including hard drive storage capabilities up to 1TB, Blu-ray combo optical drive, 8GB of DDR3 memory and more – are all housed inside an elegant yet modern designed enclosure.All-in-One Form Factor is the latest trend in PC technology

The popularity of the All-in-One form factor continues to grow in both the consumer and business markets as they deliver a smaller, more efficient footprint with a similar level of performance as traditional desktops yet with expanded multimedia and collaborative work features. "The new ASUS All-in-One PC series is the perfect technology tool to meet this increased market demand. ASUS continues to be an innovation leader with the release of these all-new AIOs, which offer premium features, stylish design, immersive multi-touch technology, and affordability in an energy efficient platform," said Margaret Chen, President of Open Platform Business (OPBG) Group for ASUS Computer International.

Convenient and rich in usability
The first to market ET2410 Series comes with a multitude of convenient features including the touch-optimized ASUS Cinema software, making it easier and more comfortable to surf the web, browse through movies and music, or edit photos. The power of Intel's 2nd generation Core™ Processor technology ensures that creating media content or handling demanding workloads is smoother and quicker than ever. The touchscreen models feature multi-touch controls for an intuitive and immersive touch experience in addition to the standard wireless keyboard/mouse inputs.

Connectivity is not a problem with two USB 3.0 ports, three USB 2.0 ports, a 3-in-1 card reader, e-SATA port and 802.11 N wireless capabilities. A HDMI input port turns the ET2410 into a brilliant 23.6″ display for gaming consoles or for use as a second monitor with a desktop or notebook computer. Engineered by audio experts, SonicMaster technology delivers crystal-clear, immersive audio that is perfect for music, movies or presentations. DTS Surround Sensation UltraPC™ further enhances audio enjoyment by offering incredible surround sound options. Its VESA mount allows the slim (2.36″) all-in-one PC to be placed almost anywhere, making it ideal for small living areas or professional offices where space is at a premium.

The ASUS ET2410 is available now through leading resellers with prices starting at $899 (MSRP). The 21.5″ ET2210 will be available in October and the 27″ ET2700 in November. To learn more about the ET2410 or other ASUS products, visit http://usa.asus.com/ for further details. Pricing, availability and specifications are subject to change.